It is very important that all member profiles are updated!!

Please take 5 minutes to validate everything and to ensure you receive all Club newsletters and so that invoices will not be sent to your player!

Login in to your account and make sure that:
You are connected to Rocky Select.
You are listed as the primary account holder. Your email should be the primary email - not your player. Click here for more information on how to change the primary email address.
All guardians are added to the profile. Click here for instructions on how to add an additional guardian.
Your player is listed on the correct team (please refer to your Player Contract for the team). If your player switches teams, please update the information in her profile!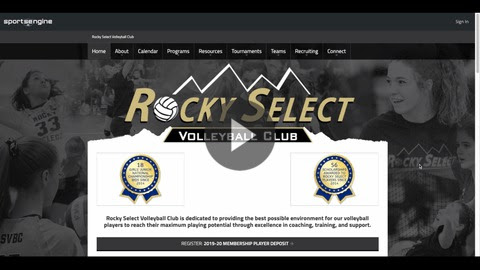 Check out this video for step-by-step instructions on how to update your profile: https://embed.vidyard.com/share/nwkiacNEnDeqGLiw43vkHH?v=3.1.1&autoplay=1&vyetoken=e6efa6d8-8eec-4aa4-b206-c38ee136c39b
HELP ARTICLES:
If you have any questions regarding your online account, please contact the Sports Engine help desk! I am unable to assist with any account issues / questions. Click here to go to the help desk site.